Amazing Escapology Acts Available to book for your events.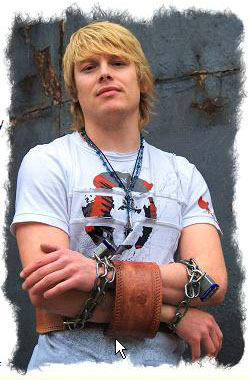 David is widely regarded as one of the most exciting escapologists and sideshow artists performing in the world today, he is a truly international performer. In 2006/7 he was booked to perform on 5 continents. Performing on stages large and small in a variety of countries, including America, Russia, Korea, Dubai (for the 2007 shopping festival), China, Ireland and of course mainland Europe. In many cases being booked to return for a second and even a third time.

His shows include sword swallowing (David is one of only around 50 performing sword swallowers in the world), amazing sideshow routines such as the human blockhead and bed of glass. Of course the highlight of any show is always a demonstration of the incredible escape skills which have brought him a total of eight Guinness World Records, and led Ripleys Believe It Or Not to dub him;The Modern Houdini"

Other services include personal training and advice for TV, movies etc. David recently trained Ant & Dec for their show 'Saturday Night Takeaway' and provided expert advice for 'Big Brother 7'. He can also perform sideshow stunts, escapology and fire skills for walkabout, photographic work, TV, movies etc.

Solo cabaret/festival shows: up to two thirty minute, or three twenty minute shows per day.

Solo spots: i.e. sword swallowing, fire eating podium spots as required.

Stunts and skilled performed include: Sword Swallowing, Straitjacket Escapes, Handcuff Escapes, Rope Escapes, The Human Blockhead, Bed of Glass, Mental Flossing, Fire Eating (in suitable venues) and more.

Arena stunts such as suspended straitjacket escapes can also be arranged.